Our products are made in the US
Regardless of where they're assembled, the blanks we print on are made of cotton grown in the USA. Some colors and styles are also fully made in the USA! One thing to note is that ALL of the manufacturers we source blanks from are NAFTA-compliant and sweatshop-free.
We create good jobs in our community with living wages
At our company ALL employees earn fair wages and have health care benefits, retirement benefits, paid holidays, and paid time off.
We support social justice organizations that reflect our values
Over the years our small business has donated thousands of dollars to organizations, such as ACLU, She Should Run, Planned Parenthood, 314 Action and City of Promise.
Customer Reviews
Write a Review
Ask a Question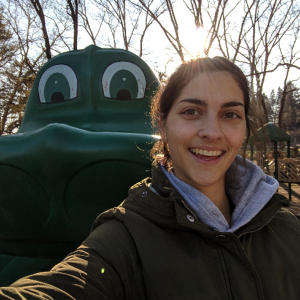 AR
08/15/2018
Angie R.
Cute and comfortable
Size chart on the site was accurate. Love this tee. People always comment on it while I'm wearing it, and it's a very comfortable material as well. Looking forward to buying more T-shirts from this shop!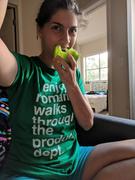 Diggin' it
As a fruit and veggie lovin' (mostly) vegan of course I needed this shirt. Maybe some people are too silly to understand it, but it cracks me up anyway because my husband and I spend a lot of time in the product department. I got it in kelly green. I really like it and it's bound to get worn a lot.