May 18, 2022
🤓 I have edits...
IT'S NATIONAL VISIT YOUR RELATIVES DAY (BUT ONLY IF YOU WANT TO)
Smack dab between Mother's Day and Father's Day, the calendar is now imploring us to visit relatives in a more general sense. If you like your relatives, by all means, pay them a visit, but if they're not your cup of tea I urge you to put your time and energy into relationships that bring you joy.
If this time of year is a downer for you (dead parents, crappy parents, etc.) you're not alone. According to a New York Times article from last year, 27% of Americans are currently estranged from a family member and 40% have experienced estrangement at some point. The most common form of estrangement is between adult children and their parents, usually initiated by the adult children.
All of this is to say let's celebrate the family (biological or chosen) that we appreciate and that appreciates us, and normalize ending relationships that don't serve us, even if it's with people we happen to share DNA with.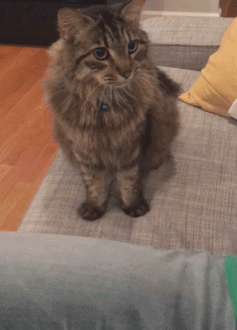 This is what my chosen family looks like; hat tip if yours is similar. ❤️
*****
Before we get to our main course — amusing links to brighten your day — let's mention a few May 18th birthdays and historical facts:
• Actress, comedian, writer, and producer Tina Fey was born on this day in 1970. Having written the screenplay for Mean Girls, cracked us all up as head writer and cast regular on Saturday Night Live, and starred in beloved sit-com 30 Rock, Fey is one of the more prolific and influential artists of our generation.

• On this day in 1927 Grauman's Chinese Theater opened in Hollywood, California. Today it's really a tourist trap. If you end up visiting Los Angeles, this spot is pretty overrated in my opinion. Skip it and spend your time at a comedy show, a street food festival, or perusing The Last Bookstore or Wacko's Soap Plant. LA has so much more to offer than the Walk of Fame and celeb impersonators.
• On this day in 2013 French President François Hollande signed a bill to legalize gay marriage in France.
• On this day in 1964 Mods and Rockers involved in violent clashes at a number of seaside resorts on the south coast of England were given prison sentences following the Whitsun weekend when hundreds were arrested in Brighton, Margate, Bournemouth and Clacton following running battles between police and up to 1,000 Mods and Rockers. Fittingly, Boredwalk prefers Mockers.
Also born on this day: filmmaker Frank Capra (1897), crooner Perry Como (1912) and sportsball legends Reggie "The Straw That Stirs the Drink" Jackson (1946) and Brooks "The Human Vacuum Cleaner" Robinson (1937)
Now on to some amusing links!
*****
1. That's one way to deal with boy problems
The Boredwalk creator team delivers chuckles with this witchy short video.
2. Cartoonist Natalya Lobanova serves up relatable comics
Lobanova's minimalist comics depict scenarios we can all relate to.
3. There's a rating for everything
If the reviews section for products isn't thrilling enough, this website is taking reviews about everything else on Earth, from sneezing to small talk.
4. The fanciest little hamster
This tiny companion critter is eating fancier meals than some humans and certainly seems to be enjoying it.
5. Spectacular sculptures from gingerbread
Norwegian artist Caroline Eriksson turns gingerbread into elaborate works of art featuring skulls, monsters, and other assorted characters.
*****
OK! Hopefully these little diversions helped to brighten your day! We'll be back here in your inbox on Friday with more entertainment and Boredwalk news and a secret limited edition weekend drop you will NOT want to miss! Until then...
Peace, love, and encouragement to visit whoever you want,
Meredith