July 23, 2021
🍨 These treats aren't going to eat themselves! 😋

BUT THEY MIGHT (BRIEFLY) FILL THE VOID IN OUR PSYCHES
Happy National Vanilla Ice Cream Day! I can only speak for myself, but I think that vanilla ice cream gets a bad rap. Sure, it may not have the sexiness of chocolate or the crisp refreshing quality of mint, but what vanilla ice cream lacks in overt appeal is made up for in seemingly endless versatility. Nuts? Chocolate sauce? Caramel swirl? Fruit compote? Chunks of fine baked goods? The sky's the limit when it comes to vanilla ice cream. It's the canvas for your dessert masterpiece.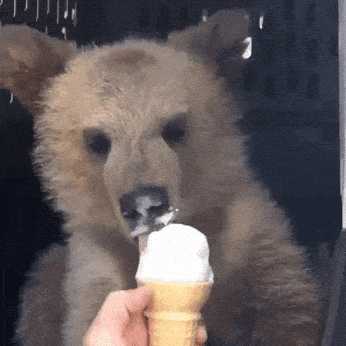 Baby bear gets it!
No new art this week, as co-founder Meredith and I have been hard at work learning all about SMS (text message) marketing! As much as we wish we could just sit around creating new designs and products and that the mere act of making them available on our website would immediately translate into people buying stuff from us, reality is far too harsh a mistress to allow things to be that easy.
The bad news for me is that I had to read a LOT of information about SMS marketing compliance to make sure I don't inadvertently engage in any spammy behavior. The good news for you is that there is now an even easier way to learn about new Boredwalk products, access discounts, and be entertained (occasionally) by animated GIFs and my puns about food, cute animals, and vampires! Huzzah!
If you'd like to subscribe, just go here, if for no other reason than to find out which animated GIF I've chosen to welcome you to our list. (Though subscribing to our SMS list does enter you to win a free t-shirt in our monthly giveaway, too.)
*****
So that's my bit about how Boredwalk is trying to market our wares without being so reliant on Facebook and Instagram! On to the birthdays!
• Happy birthday to actor and playwright Woody Harrelson, born this day in 1961! I once ate a, uh, "special" brownie in a coffee house Mr. Harrelson frequented in Amsterdam. We're best "buds," basically. 
• Happy birthday to legendary axe-slinger Saul "Slash" Hudson, born this day in 1965! I like to think that lots of cute little baby birds live in his equally legendary top hat. 
• Happy birthday to 1990s NBA star Gary "The Glove" Payton, born this day in 1968! Mr. Payton was arguably my favorite basketball player growing up, and to this day still holds Seattle Supersonics franchise records for points, assists, and steals. 
• Also dining on cake today (possibly with vanilla ice cream!) is actress Charisma Carpenter, born this day in 1970! Ms Carpenter rose to fame in the mid-1990s in the role of Cordelia Chase on the Buffy The Vampire Slayer and Angel television series. Fun fact: she originally auditioned for the role of Buffy!
• Let's wish a very comedic birthday to actor, comedian, writer, and producer Marlon Wayans, born this day in 1972! Mr. Wayans got his start in his older brother Keenen Ivory's 1988 film I'm Gonna Git You Sucka, and rose to fame as a cast member on In Living Color and co-star of The Wayans Brothers along with his other brother Shawn. Fun fact: Tim Burton really wanted Marlon to play Batman's sidekick Robin, first in Batman Returns, and then in Batman Forever, but between studio heads concerned that Returns had too many characters in it, and Burton being replaced by Joel Schumacher in the director's chair for Forever, it never happened.  
• Happy birthday to the late, great actor Philip Seymour Hoffman, born this day in 1967! Mr. Hoffman appeared in a bunch of great films before his untimely passing, including Twister, Boogie Nights, The Big Lebowski, Magnolia, Pirate Radio, Almost Famous, and Punch-Drunk Love, among others. 
• Finally, a magical birthday wish for Harry Potter himself, actor Daniel Radcliffe, born this day in 1989! While the Harry Potter film franchise made him a household name, don't sleep on his more recent films like Swiss Army Man and Horns
*****
Alright! Podcast time! This week we discuss:
• Meredith's dental dilemma — boo!
• The *sigh* return of the mask mandate in Los Angeles County. Please get vaccinated if you haven't already! It's very hot to keep wearing masks outside and around the office, and I promise you will not spontaneously combust or transmogrify into a talking mutant bat.
• Our recent clashes with social media trolls — always a good time!
• Share replies to recent Questions of the Day "what popular summer activities do you not enjoy?" and "what are you proud of right now?"
Sound fun? It should, because it was! Click here to listen!
*****
Alright! We'll be back here in your inbox next week with a fresh Boredwalk Community Q&A with a fan just like you! We'll also have another new podcast episode to share, and maybe a new design! Until then...
Peace, love, and ice cream,
Matt