August 09, 2021
🐺 Time to hit the road, amigo! 🦇

DON'T FORGET THE SNACKS! 🩸🦇
I was all set to start this sentence with an enthusiastic "Happy Monday!" until I remembered that no one ever says that. So instead, Happy National Book Lovers Day! If you happen to be a full-on bibliophile, or just someone that peruses the latest bestselling beach read, salud!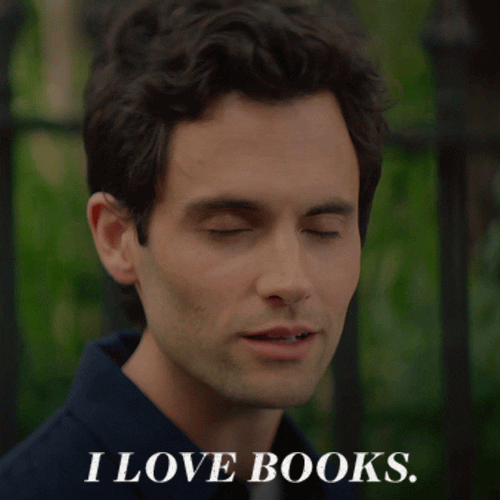 You stay the f$&k away from my stacks, handsome/murderous Joe Goldberg!
Today is also Islamic New Year, so blessings to you this Muharram if you happen to observe it!
*****
Speaking of observing things, if you happen to to live in an area with very low levels of light pollution, be sure to have a little extra caffeine on Wednesday & Thursday night and pop outside for a gander at a stellar light show courtesy of the Perseid meteor shower!
Boredwalk co-founder Meredith and I catch it every year — hence our shining a spotlight on our Vlad & Wolfie's Road Trip Adventure t-shirt up top — and this year's is primed to be an especially rad display since the Moon just entered a New phase, keeping the sky over the next few days nice and dark. Trust me; you want a very dark night sky so those shooting stars really pop! No one wants a low-contrast stargazing experience.
*****
Before we delve into this week's community Q&A, let's celebrate some notable August 9th birthdays! 
Happy birthday to actor, novelist, and playwright Robert Shaw, born this day in 1927! Mr. Shaw was a respected multi-hyphenate from a young age, joining the Royal Shakespeare Company at 19, but his most famous role as the grizzled shark hunter Quint in Jaws came just three years before his death in 1978. 
Happy birthday to actor Sam Elliott, born this day in 1944! Mr. Elliott has built a career as something of a character actor focusing on westerns, but in this guy's opinion, his finest on-screen role was as Wade Garrett, bar bouncer mentor to Patrick Swayze's character in Road House. I specify "on-screen" because...
...today is also the birthday of wildfire prevention icon Smokey Bear, whose creation was authorized by the US Forest Service on this day in 1944! Learning about Smokey Bear is a rite of passage for several generations of outdoorsy American kids, and he can still be seen in current ad campaigns voiced by (wait for it) Sam Elliott! It's like he was BORN to play Smokey!
A very musical birthday to actress and singer Whitney Houston, born this day in 1963! Ms Houston was one of the bestselling recording artists of all time, with over 200 million albums sold, and won SO many awards. 2 Emmys, 8 Grammys, 16 Billboard Music Awards, 22 American Music Awards, and more!
A very science-based birthday to actress Gillian Welch, born this day in 1968! Ms Welch is the famously skeptical Agent Dana Scully in the X-Files franchise universe.
Finally, happy birthday to actress and singer Anna Kendrick, born this day in 1985! Ms Kendrick has been in lots of stuff since the early 2000s, some famous (The Twilight Saga, the Pitch Perfect franchise) and some more low-key (Up in the Air, 50/50, Life After Beth, and most recently in Roku TV's Dummy).
OK! Assuming I don't die before then, I'll be back in your inbox on Wednesday morning with links to fun distractions! Before that, though, scroll down and learn all about fellow Boredwalk fan David A.! As usual, if you'd like to be featured in an upcoming email, reply to this and let me know! Until next time...
Peace, love, and lots of books,
Matt
*****
David moosing around in the recording studio.
1. What's your day job and what's your dream job?
I'm a voice actor (voice of 'Muddy' in Vector Games' Dark Raid) and part of a radio morning show, so I'm kinda DOING my dream job. Maybe if I were pulling down a million a year then I really could call it my "dream" job! Great use of that Architecture degree, am I right?
2. What keeps you up at night?
Basement dwelling trolls. (Ed. note: Is this a problem in your neck of the moose-y woods?!)
3. What experience do you most want to cross off your bucket list?
I'd love to watch a sunrise from the steps of the Parthenon in Greece.
4. If you could have any super power what would it be and why?
I'd love to have the ability to reach through a router and slap the crap out of a critic. (See "biggest pet peeve.")
5. You can curse your nemesis with a minor annoyance for eternity; what do you choose?
Random helium voice during intimate moments!
6. What's a surprising fact about you?
Just because I was born in New Orleans doesn't mean I party 24/7. There are LOTS of reasons that I do that!
7. Where can the rest of the Boredwalk community find you?